Effectively insulating buildings to improve their energy efficiency is a key tool in the fight against climate change. Seventy percent of CO2 emissions in the building sector come from building operations, including heating and cooling. There is a way to reduce that. Holcim's answer is Airium™.
 
What is Airium?
Airium is an insulating technology that improves energy efficiency of buildings, from wall to wall and floor to ceiling: block-filling, roof terraces, attics, sub-screeds and double walls.

Airium™ is made of cement-based slurry, aqueous foam and mostly enclosed and distributed air bubbles.

It is the first mineral foam to offer a top-tier insulating performance, for an ideal thermal comfort, be it for cold temperatures or heat waves. Being mineral, it is also fully fire-resistant, completely recyclable, unfavorable to insects or rodents, and contains no added chemicals. Additionally, Airium™ is easy to use, increasing the speed on jobsites and tightly filling any corner or shape.

Airium™ is a range: depending on the density, different compromises can be achieved between insulation performance and structural resistance as is shown in the graphs below.
Image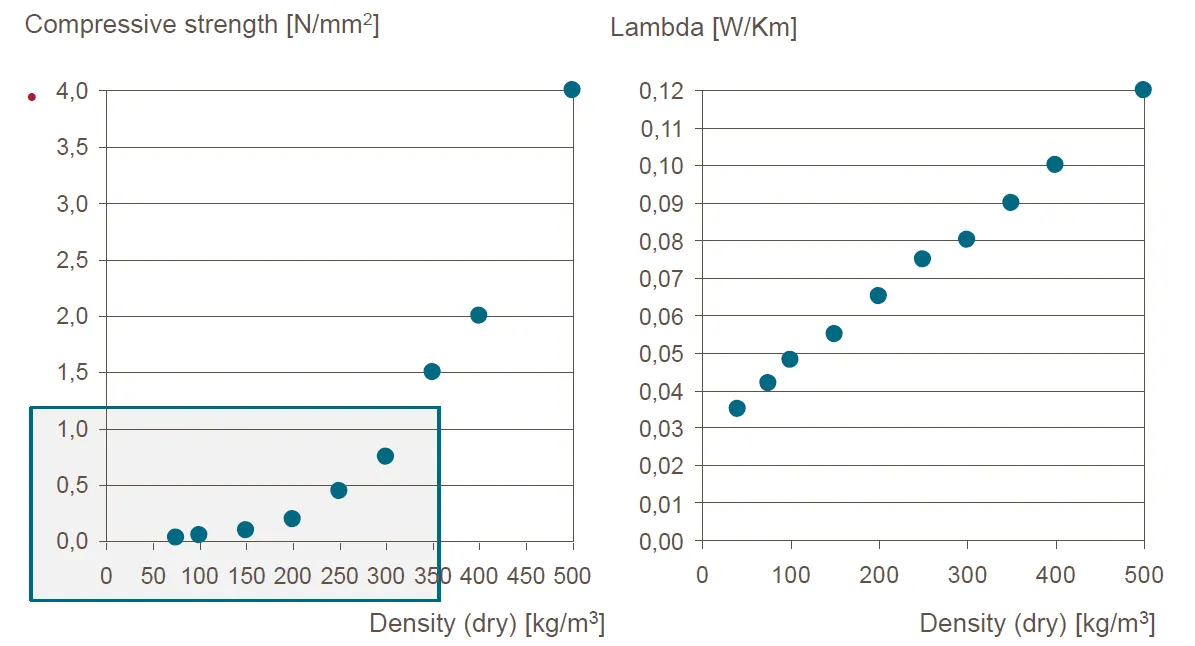 Unlike other insulation solutions, Airium™ can be produced on site using local raw materials, which eliminates transport costs, storage needs and waste management.
In a typical house, Airium has various applications giving the possibility of a complete insulation envelope for the entire house.
Image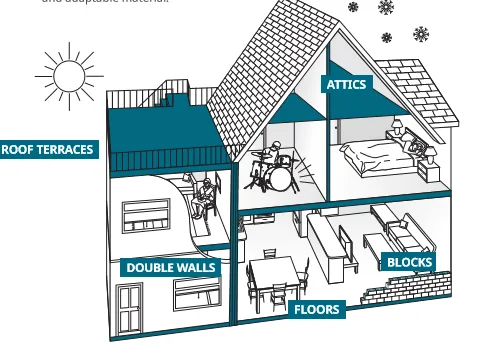 Image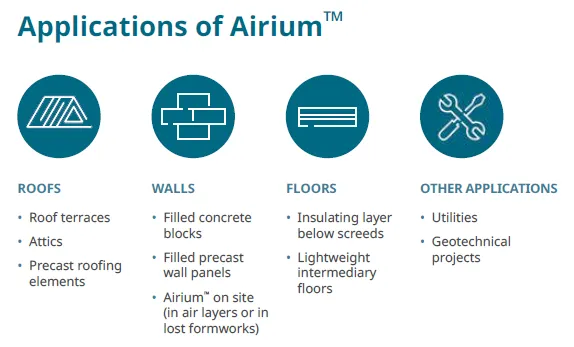 Airium™ of a medium density (200 to 500 kgs/m3) is applied on flat roofs to replace both the concrete slope and the insulation layer. It is sufficiently strong to be walkable. It builds and insulates at the same time (slope + insulation) giving a homogeneous and durable insulation with local material. Its 30% faster than traditional method, safe, healthy, provides better heat comfort and less weight leading to reduced structural costs.
Image

"This solution allows covering more space more quickly than other materials, and it's easier on a day-to-day basis for my workers."
Airium™ applicator in Morocco
The order of the layering may change depending on the country.
If tiles are not required the surface might be finished with gravel or with a mortar layer.
Benefits of Airium™ for Roof Terrace applications
The slope and the insulation are built with Airium (2 in 1, building and insulating at the same time)
Lower dead-load of the building due to the suppression of the Concrete slope layer
Less steps during the construction process
Building + insulating at the same time
High durability
Homogeneous insulation and greater comfort VS heat
Completely Fire proof
Less waste
Pump directly at ground level to high heights. It is no longer necessary to transport your insulating materials on the roof.
Airium™ into attics is poured on-site with a density and an insulating power adapted to the accessibility needs of the attics (50 to 180 kgs/m3). It gives a homogeneous and continuous insulation. It is highly fire-resistant, long-lasting, no rodents/insects, no volatile organic compounds (VOCs) and no mold.
Image

"I really feel the difference. I use less wood for heating, and an optimum temperature is obtained much more quickly in the house!"
Customer in Austria who used Airium for his attic
Airium™ is produced on site with an Airium™ truck (see picture alongside) trailer or an Airium™ foam box, allowing to adjust to the required Airium™ density. At a speed of ca. 1 min/m2, Airium™ quickly fills all corners of the attic in a continuous way. It can be used in both lost and used attics, in new built and in renovation. 
Image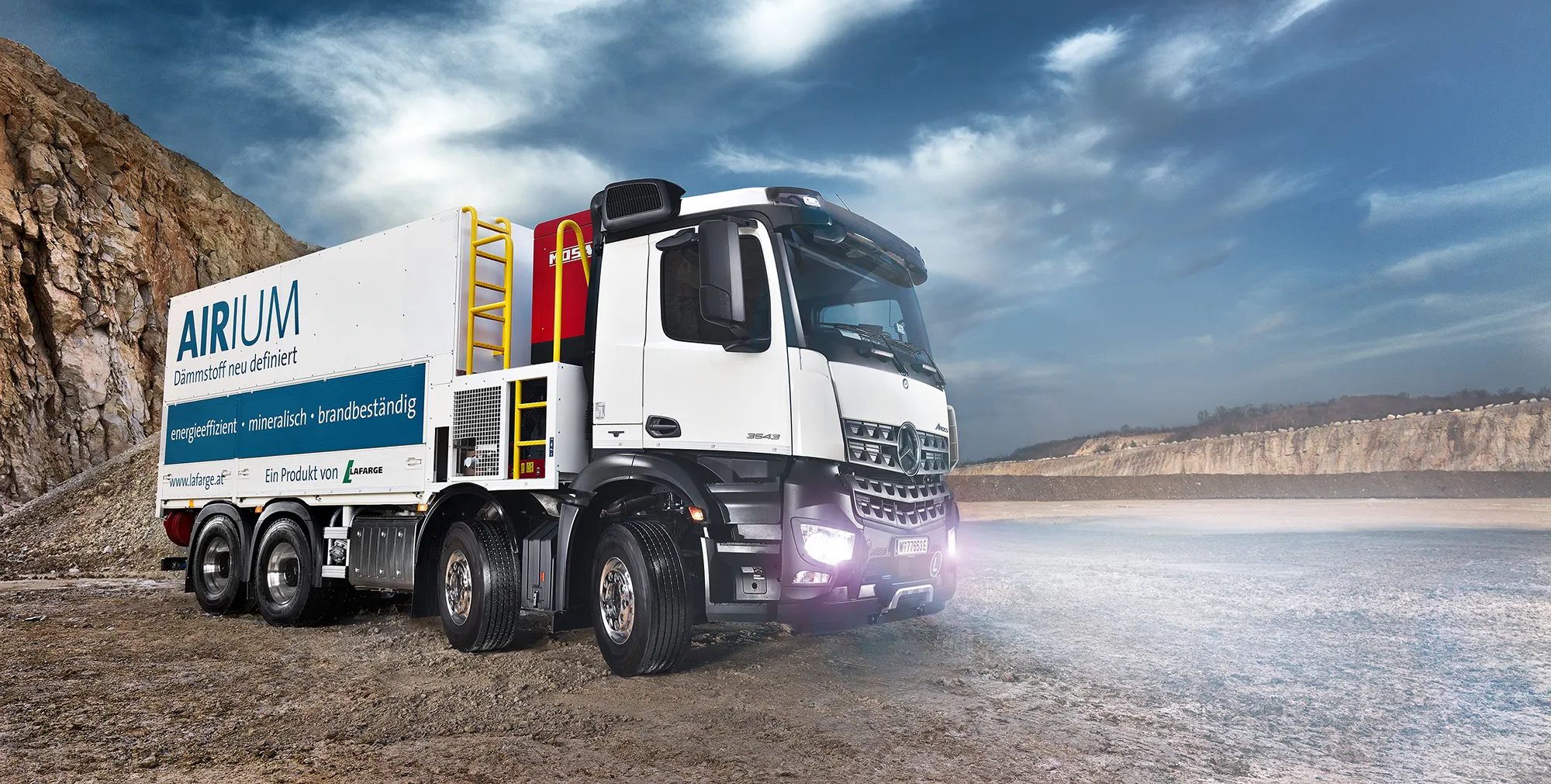 Image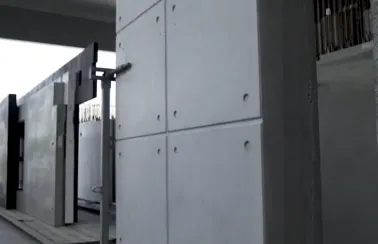 The Airium™ team is currently working on the development of concrete and Airium™-based wall panels to support our partners in the development of high performance, healthy buildings.
Modular Airium™ solutions offer significant advantages compared to conventional construction, from environmental benefits to time and cost savings, and better quality and construction management control. Airium™ can also be used to fill different non concrete based precast systems for wall, roof or floor pre-insulated elements.
Mineral foam with a low density (100 to 180 kg/m3), which can be injected into any type of Double or Sandwich wall design within a precast environment It is recyclable, "fully mineral", safe, long-lasting, healthy, fire resistance, has a lesser CO2 footprint and comfort vs heat.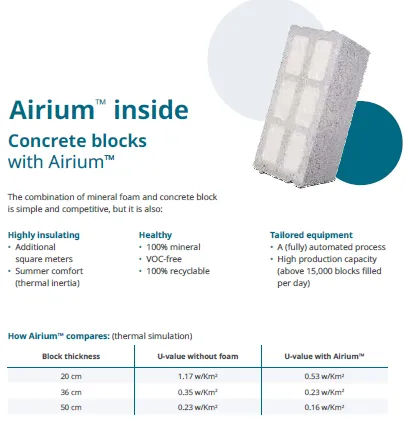 Blocks with a low density Airium™ (e.g. 70 kg/m3), injected into any block in a precast environment.
It provides increased carpet area, at least -10% heating/cooling bill vs hollow blocks not filled with Airium, fire resistant, has less CO2 impact and recyclable.
No additional soundproofing layer is required. In addition to the above it offers complete design flexibility, its safe and 12 times less volume is required to be transported.
We work in a partnership with block manufacturers providing a complete solution approach: block design, certification, machinery, industrialization, branding & prescription.
Co-developing construction solutions in favor of improved energy efficiency and home comfort is a major priority. In 2016, the first concrete blocks manufacturing plant of a leading and innovative precast player in France was equipped with a fully automatic AIRIUM foaming equipment.
Airium™ of a medium density (150 to 400 kgs/m3) is applied either on the ground floor or in intermediary stories below the screed. It helps in levelling and provides continuous insulation layer. Its highly durable, easier to work with on the jobsite, no compression of insulation, less transport and waste. It is also lightweight, fire proof & contributes to sound correction.
A network of applicators is trained by Holcim teams to master Airium™. A premix in bags is delivered to the site with additives or the slurry is brought by RMX truck and poured into a specific foaming machine. After ~6 h., Airium™ has set. After ~2 days, people can walk on it. After ~7 days, a screed is applied.
Living with AIRIUM
 
For home-owners, choosing AIRIUM is about peace of mind, comfort and healthiness. AIRIUM provides:
Efficient & cozy insulation
AIRIUM is highly insulating in its lowest density version, reaching a top-tier insulation performance level. In addition, home comfort during heat peaks is widely improved compared to traditional insulation.  In terms of acoustics, AIRIUM is among the best insulating materials. And as it is a fully mineral solution, an AIRIUM based insulation is not at all appealing for insects and rodents and is not favorable to their multiplication.
As it is entirely mineral, AIRIUM has the best fire protection class: A1 according to EU standards.
No chemicals are added and there is no impact whatsoever on the air quality as AIRIUM is inert. Also, the breathability of AIRIUM and its PH level strongly diminish the risk of mold compared to traditional insulation.
AIRIUM is the future of insulation. It has a lower CO2 footprint over its life cycle compared to other insulation methods as a result of several factors: its high air content, its higher durability (more than 100 years !) , its carbonatation property (CO2 is absorbed over time), and its full recyclability. Its high durability also means less worries and less renovation cost over time.
Insulating with AIRIUM cost as much or less than traditional alternatives for end-users, while bringing so many additional advantages! Its price will of course vary with geographies and applications. In all cases, in a controled environment or on site, the implementation cost of insulation is lowered, as transportation, storage, handling (e.g. cutting) of insulation are no longer necessary. The materials cost of AIRIUM also makes it interesting. 
Building with AIRIUM
 
For home-builders, AIRIUM is hassle-free, easy to use and adjustable. AIRIUM brings you a lot of benefits:
You can build and insulate at the same time
For rooves and terraces, the sub-screed layer poured with AIRIUM replaces in a single layer traditional two layered systems (often composed of a concrete slope and an insulation layer).
For wall elements such as concrete blocks filled with AIRIUM, you can to skip or at least put less additional wall insulation layers on site. It means a substantial speed and cost advantage on most applications for home-builders.
AIRIUM is foamed on site or previously integrated in precast elements. For you, it means less hassle in terms of transportation, storage and handling on site. It is also fully and easily recyclable.
AIRIUM can fill any shape, cavity or corner. It is either poured in precast elements beforehand or pumped on site with a simple specific machine that can also be used for traditional screeds or slabs.
It is an adaptable technology
The density of AIRIUM can be adjusted to your needs and requirements to give you the best compromise between insulating performance and structural resistance.
As an architect, reaching ambitious energy efficiency targets in a sustainable way is key in the buildings you design. AIRIUM provides you with:
AIRIUM has a lower CO2 footprint over its life cycle compared to other insulation methods. It is also a fully recyclable material !
AIRIUM is highly insulating in its lowest density version (with a Lambda value below 40 mW/m.K.). In addition, home comfort during heat peaks is widely improved compared to traditional insulation as the thermal phase shift of AIRIUM is in average twice as good as with other insulating materials.
AIRIUM behaves like concrete over time and lasts more than 100 years. Compared to traditional insulation that lasts 50 years or even less (e.g. settling), it makes a real difference.
As it is entirely mineral, AIRIUM has a fire protection class of A1 according to EU standards.
With AIRIUM, no added chemicals against fire are needed and there is no impact whatsoever on the air quality as AIRIUM is inert. Also, the breathability of AIRIUM and its PH level strongly diminish the risk of mold compared to traditional insulation.
Do you want to know more? Are you a construction professional looking to substitute existing systems with Airium? Just leave us your contact details and we will get back to you shortly.